Vikingvalhallas – About Bali Scooter Rental: My experience, price and handy tips is the best plan for discovering ,
Do you want to rent a scooter in Bali but have some questions? Before my trip, I dreamed about riding a rental scooter in Bali and crossing rice fields and majestic landscapes. However, another part of me was afraid of getting stuck in chaotic cities with no escape.
To be honest, I am not an experienced biker. Before Bali, I had never ridden a motorcycle in my life, except for a couple of laps around my grandparents' village on a friend's scooter. The question of whether renting a scooter in Bali was dangerous or not was previously a constant concern for me.
Upon my return from my trip, I decided to share my experience of traveling around Bali by scooter for the first time, since it is one of the best things to do in Bali.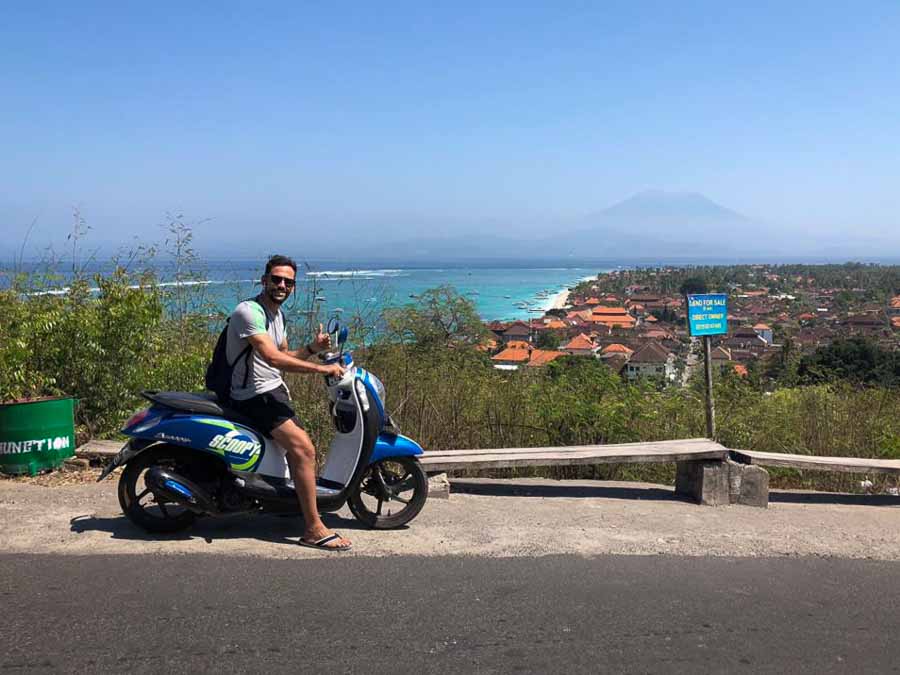 In this guide to renting a scooter in Bali to travel across the island, you'll find information about where to rent a scooter in Bali, documentation, insurance, scooter rental prices in Bali, and an answer to the big question: Is it really dangerous to rent a scooter in Bali?
Travel around Bali by Scooter
If you have already decided to rent a scooter in Bali,you'll find the information you need to plan your trip here.
Is it dangerous to ride a scooter in Bali?
My recommendation is that the first time you rent a scooter in Bali, do it in a quiet place with no traffic, like Ubud, especially if you don't have much experience. You can start, for instance, by going through the rice fields around this village, one of the best things to do in Ubud.
Riding a scooter in Bali is as dangerous as anywhere else in the world, so even if the laws are not very strict, always wear a helmet.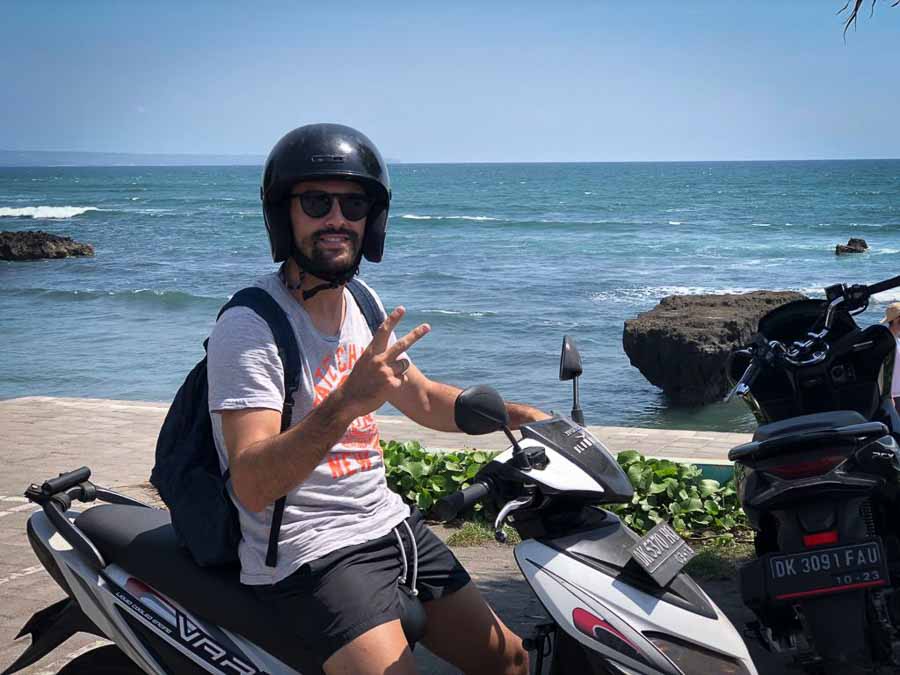 My second and probably most important advice is buying travel insurance for Bali and taking your phone with you at all times because accidents happen. Even though renting a scooter in Bali is not dangerous, you always have to be prepared.
If you are looking for budget travel insurance,use this 5% discount.
International driving license in Bali
It's simple: Yes, you can rent a scooter in Bali without an international driver's permit. However, I don't recommend it.
The policemen get a good bonus every day just for stopping tourists and issuing tickets for driving without a license. To avoid this, first, you have to drive like a Balinese local. For instance, drive among the crowds, drive on the hard shoulder, on the left, on the right, pass between trucks, and honk your horn.
If you look like a tourist, the police will pull you over, and if you don't have an international driving permit, they'll make up the ticket price, which depends on the police officer on duty. There have been cases where they have charged more than one million rupees ($70), so plan ahead and do the paperwork to get your international driver's license before your Bali scooter rental.
How can I get the international driving permit & license to ride a scooter in Bali?
It depends entirely on your country.
In the US, for example, you should get an international driving permit (IDP) and take it with you, along with your US license. This document is issued by just two organizations, the Automobile Association of America (AAA) and the American Automobile Touring Alliance (AATA) for a price of $20.
The process is very straightforward, and it can be issued immediately at any of the AAA branches or by mail, which takes 10-15 business days with both organizations.
For other countries, you should check the process you must follow with the Department of Transportation of your country.
Driving in Bali
Driving in Bali can be chaotic. The Balinese don't usually use turn signals or rear-view mirrors. The law of the strongest is what prevails on the road.
Tellingly, there are fewer accidents in Bali than one would imagine.
Which side do they drive on in Bali?
As in most Asian countries, they drive on the left side of the road in Bali, so you have to take special care when cars come forward if you are not used to driving on the left side. In my case, and on the less frequented roads, I ended up driving in the middle or avoiding the great number of potholes in the road. Whenever I could see a car coming in the opposite direction I just remembered to drive towards the left.
Gas Price in Bali
Gas is very cheap in Bali, with a price of around 33,642 IDR per gallon ($2.38). However, the gas stations in Bali are very different from the ones in the US and other developed countries, where you can find pumps, rest stops, and bathrooms.

The usual way to sell gas in Bali is through small stands with wooden shelves full of glass bottles with gasoline, where they'll fill your Bali scooter tank.
Can I travel to Bali without a motorbike?
Although having your own motorcycle to go wherever you want is very comfortable, you can get around Bali without a scooter without a problem. Luckily, there are a lot of tours in Bali that take you to the main places to visit in Bali.
In fact, Ascen visited more places during her 1-week Bali itinerary without renting a motorbike, than I did during my 10-day Bali trip riding the scooter.
I've never ridden a scooter; can I drive in Bali?
I did it, and the truth is that for someone who's riding a bike for the first time, it might be overwhelming. It's true that renting a scooter in Bali has many advantages, such as deciding your own schedules and itinerary. However, there are many downsides, such as swallowing dust when driving on unpaved roads or the endless hours of riding where I ended up with horrible back pain.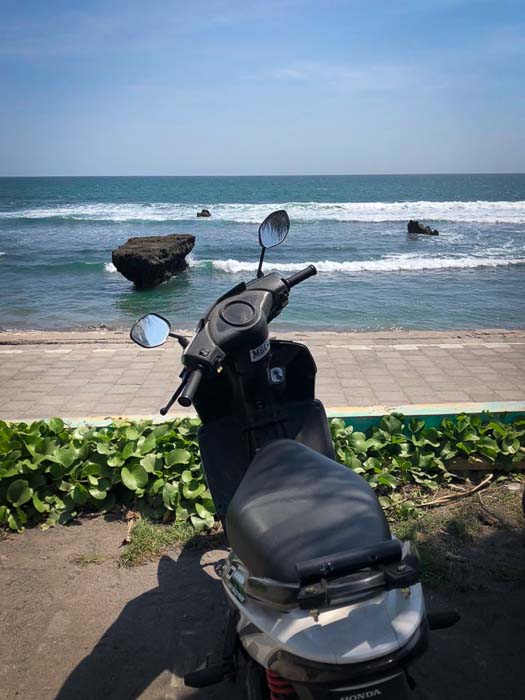 I don't regret it at all, but I think that if you can afford to travel by hiring tours in Bali; it's much easier and safer.
In any case, don't ever try to learn to ride a motorcycle in Bali. I rented a motorbike in Madrid during the two weeks before my trip to learn and get used to the scooter.
Scooter route across Bali
When traveling on a scooter in Bali, the distances can be significantly greater than you expect. During the planning of your trip to Bali, multiply the Google Maps distance by two. This will leave you more than enough time to drive calmly and not feel overwhelmed if you find roads in poor condition.
Installing the maps.me app on your phone and downloading this Bali map, will be of great help when you have to stop in the middle of the route to look for a location.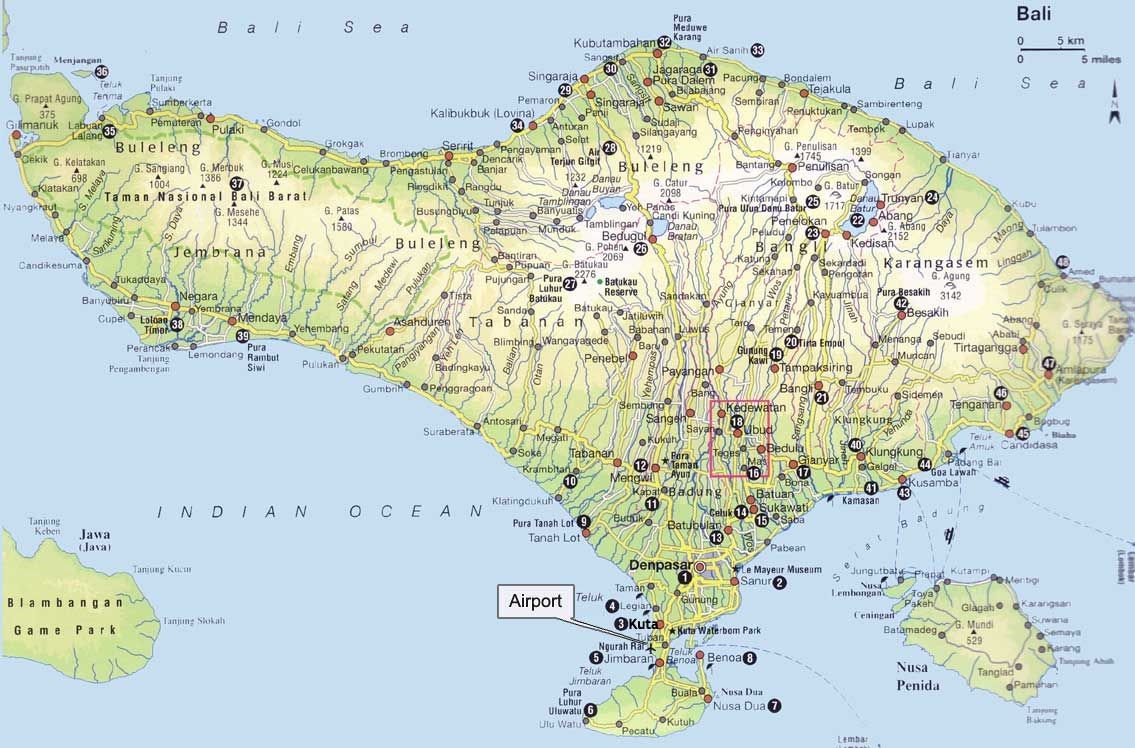 In addition, it0s always recommended to take a Bali road map on paper. I bought this one, which is also waterproof in case it rains.
Regarding the Bali route by scooter, you can use any of the ones we recommend in the article on the best Bali itineraries according to the days you have; just remember that distances will be longer than traveling Bali by car.
In addition to traveling Bali by scooter, during the days I spent in the Gili Islands, I rented a bicycle, and it was more than enough to visit Gili Trawangan.
Bali Scooter Rental
Renting a motorcycle in Bali is very simple. There are many places you can find them and the prices are fairly cheap, around 70-80.000 IDR ($6 approx). They rent them in many hotels in Bali, restaurants, shops, etc. You can find Bali scooter rentals everywhere.
In my case, I asked a friend where to rent a scooter in Bali. He had visited the island a few months ago and told me that he had many issues with his rental bike. His kickstand was suddenly released, and he had an accident in which, although it wasn't serious, he broke his phone. Since it was a small road, he had to wait more than half an hour for someone to take him to the hospital. Luckily, it was only a few scratches that his travel insurance for Indonesia covered, but I no longer trusted renting my motorcycle anywhere.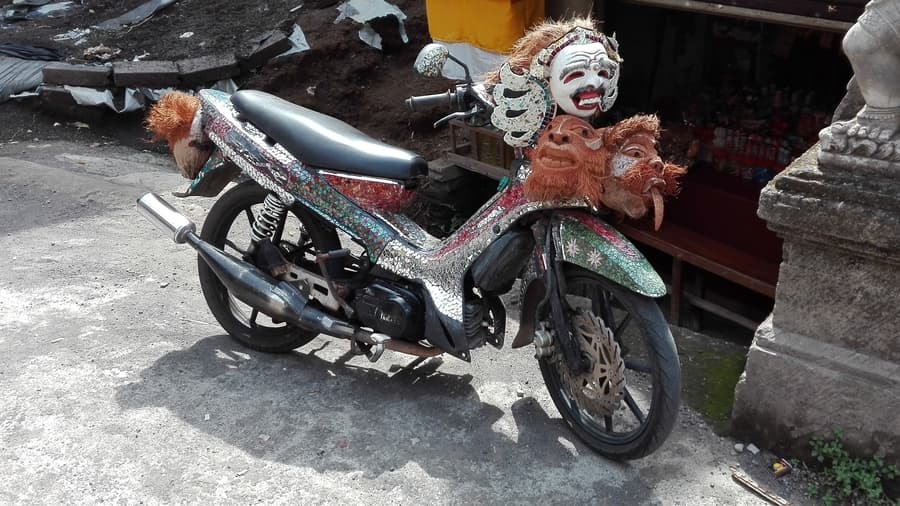 I booked my bike in advance here, and although it was a bit more expensive ($7.86 per day) it was in perfect condition. I rented a 150cc Yamaha NMax that was delivered to my first accommodation in Bali.
Bali Scooter Rental price
The price of renting a motorcycle in Bali goes from ID 70-80,000 ($6 approx) per day if you rent it in Bali or $8 if you rent it from an online rental company. In addition, it is highly advisable that besides your international travel insurance, you hire scooter rental insurance if you don't want to be charged for the damages the motorcycle may have when you return it.
These insurances vary from one place to another, but think approximately 20,000 IDR ($2) per day.
Bali by scooter or car
If you're thinking of travling on your own, it's better to ride a motorcycle instead of a car in Bali, due to the road conditions (there are roads with so many potholes that it is more convenient to avoid them with the scooter) and the price of rental cars in Bali.
However, not everyone likes scooters, so if you are thinking about traveling by car in Bali, you have three options: rent a car in Bali (it can be quite expensive), hire a car with driver (there are some limitations), or hire a tour (the easiest option, although you will depend on your guide).
Tips for renting a scooter in Bali
Finally, I want to give you some handy tips for renting a motorbike in Bali:
Take your time tocheck the rental scooter. Check the brakes and power and if you aren't happy with it, don't hesitate to exchange it for another.
Buy the

best travel insurance

and have the assistance phone number on hand.
Always wear a helmet, even during short trips.
Check the weather in Bali before your trip.
Avoid being fined by taking your international driver's licensewith you.
Learn to drive like a real Balinese local.Even if you carry a license, if a policeman sees that you drive like a tourist, he'll stop you and make up something to fine you.
If you have never driven, rent a motorcycle in your citya few weeks before your trip to familiarize yourself with it.
Buy scooter rental insurance to save money on any damages.
Don't try to carry all your luggage on the motorcycle. Set up a base camp in any hotel or

villa in Bali

and leave most of your belongings there, carrying only a small backpack with the essentials for your scooter tour through Bali.
Carry both a paper map and an offline mobile app with the

Bali map downloaded.

In case of a breakdown or puncture, keep calm, call the company where you rented the motorcycle, and go to one of the hundreds of workshops on the island.
Before you go, I'll leave you with the essentials for your trip to Bali:
I hope this article has helped you decide whether to rent a scooter in Bali or not and has given you all the information you need to make your experience traveling the island by motorcycle unforgettable.
If you have any other questions about my Bali scooter tour, do not hesitate to leave me a comment!
source : https://capturetheatlas.com/bali-scooter-rental/